Modern technology for everyday heroes
The SiVario 2020 can accept empties extremely quickly and is already equipped for future demands. The high speed ensures a pleasant return experience with no waiting.
Continuous upgrading of our SiVario 2020 means that we will also be able to meet the demands of the market going forward. Whether recyclable to-go bowls and cups, disposable or reusable containers, dairy packaging or crates, we are always in tune with what's happening in the market.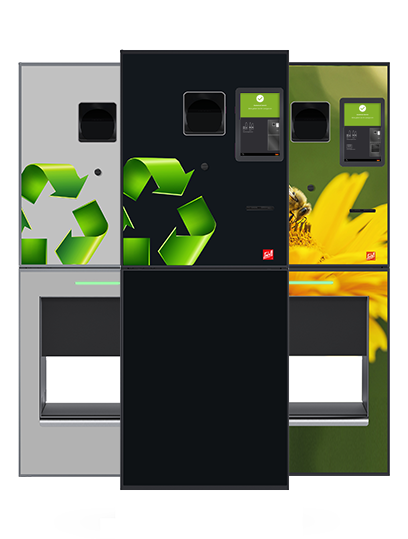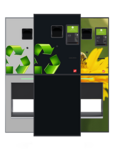 Features
Reverse vending of disposable and reusable PET containers, glass bottles, cans, cups with EAN-code and beverage cartons
Camera-based, rotationless Omega 360o -Container recognition in real time
Precision scales: Weight, barcode and shape recognition, safety marking as well as recognition of full containers in the bottle acceptance area
Optimized shape of the coin insert ring to prevent running drips
Easy cleaning:
Menu-guided cleaning with animation
- With the intuitive color concept of the surfaces to be cleaned
Particularly easy to service due to complete access to all operating elements from the front
Electronic lock - Opening by code
Dimensions with crate acceptance:
1,715 x 600 x 1,080 mm (height x width x depth)*
Dimensions without crate acceptance:
1,715 x 600 x 955 mm (height x width x depth)*
Weight with crate acceptance:
Approx. 330 kg
Weight without crate acceptance:
Approx. 270 kg
Electrical connection values:
3L/N/PE, 400 V, 50 Hz
Power consumption:
Max. 650 W, 70 W Standby
Operating temperature:
+5 °C up to +40 °C
non-condensing
Wall opening:
1,750 x 650 mm (height x width)
*Deviations in the housing dimensions are possible due to add-on parts and accessories.
Thermal printer with cutting mechanism and receipt roll
Receipt is displayed externally
Receipt data can also be loaded onto a mobile app via QR-code
Standard XML data interface
LAN (Ethernet)
CE, DPG-certified
UKCA (UK Conformity Assessed)
Standard:
Optional:
Branding RAL 9006
Branding "Kugel"
Branding "Biene"
Customizable branding
SiFace Software:
- Product range releases
- Change opening times
- Installing coupon promotions, donations or advertising on the display
SiWash 2020 - The hygiene station: Emptying any residual liquids for improved hygiene
Connection to conveyor and sorting units for disposable and reusable packaging
CrossMove 90
Personal consulting
Personal consulting
Our specialists' consulting to suit your individual requirements
Individual planning
Individual planning
System planning according to local conditions
Support of our specialists
Configure your system as required
Installation
Installation
Installation and commissioning by our competent staff
RVM service
RVM service
Experienced, practice-oriented hotline staff
Germany-wide Sielaff Service technicians network
Maintenance and professional cleans on site
Maintenance